A noite chuvosa da primeira quinta-feira pós-show dos Rolling Stones na capital gaúcha teve como sobremesa a apresentação de Bruce Kulick no apertado Anexo B. O local lotado (pouco mais de 200 pessoas) recebeu o ex-guitarrista do Kiss com muita gratidão e paixão, relembrando os momentos farofas dos anos 80 que conquistaram uma nova legião de fãs para os americanos pós-fase mascarada, afastando ao mesmo tempo uma grande safra de seguidores dos anos onde as máscaras do quarteto estampavam as capas de seus discos.
Antes do show, o movimento já era intenso no local, ainda mais com a apresentação marcada para às 8 horas da noite, o que considerei muito bom, e também para a promoção do ingresso, cujo valor do ingresso normal comparado com o valor do Meet & Greet era muito similar, possibilitando com que vários fãs, inclusive eu, desfrutasse de alguns minutos de conversas, fotos e autógrafos com o músico
.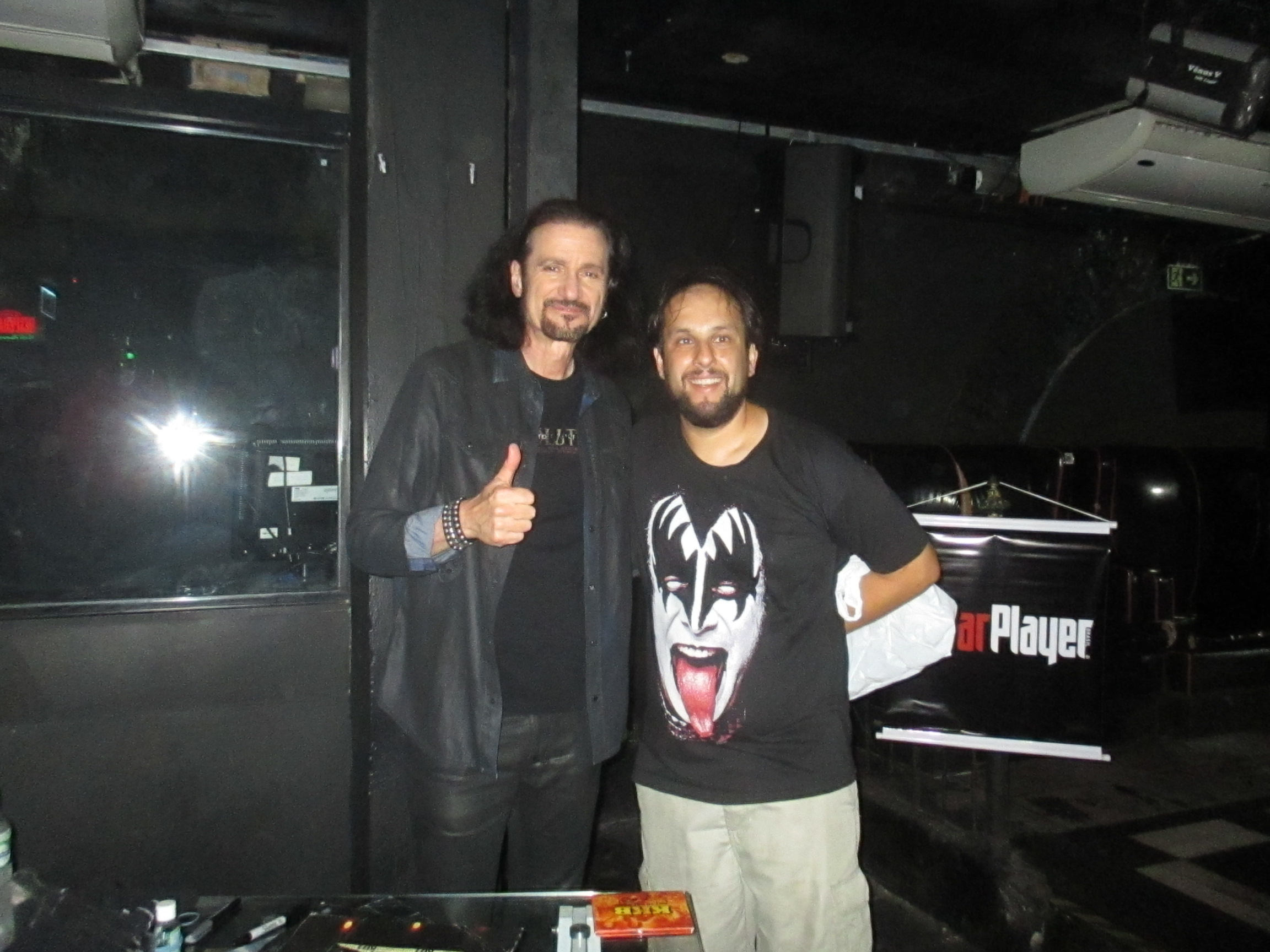 Bruce foi extremamente simpático na recepção aos fãs, autografando o que vinha pela frente sempre com um sorriso na face. Comigo, ele foi bastante atencioso, tendo ficado alguns segundos comentando sobre o LP do MTV Unplugged que levei para ele assinar, e ainda, ficando muito satisfeito com a troca que fiz com ele (entreguei uma palheta personalizada da Consultoria do Rock em troca de uma palheta personalizada do guitarrista).
Assinaturas garantidas, era a vez de conferir a banda de abertura, a Parasite. Os guris de Porto Alegre mostraram uma performance que inacreditavelmente surpreendeu pelo profissionalismo. Desde a abertura com a famosa frase "You wanted the best and you've got, the hottest band in the world, Kiss", até as máscaras e fantasias, era tudo perfeito. Claro, ficou estranho ver "Paul Stanley" canhoto, mas isso foi o de menos. Gostei bastante do vocal do Paul gaúcho, e achei a performance de Gene digna de nota, e o único defeito veio com alguns problemas no som da guitarra de Ace, compensados por Peter, que tocou bem mais do que o original.
O set list dos garotos durou pouco mais de meia hora, concentrado essencialmente em canções da fase mascarada, abrindo com "Creatures of the Night", sempre uma bela pancada para sacudir o esqueleto no início de um show, passando por "Deuce", "Love Gun" e "Let Me Go, Rock 'n' Roll", surpreendendo com "War Machine" e "Psycho Circus" e encerrando com "I Love It Loud" e "Black Diamond", com a primeira sendo cantada em uníssono pelos presentes, que apoiaram a banda do início ao fim, e a segunda tendo direito a Ace ajoelhado no palco durante seu solo enquanto Gene e Paul dançam sincronizado.
Isso foi outro ponto positivo que me chamou bastante a atenção dos guris. A semelhança não fica só nas roupas e fantasias. Além de tocarem muito bem as faixas do Kiss, eles fazem as mesmas danças que o grupo apresentava em seus shows. Era impossível não se sentir de volta ao início da carreira da banda, quando vemos em DVDs shows da fase inicial do grupo, em pequenos locais dos Estados Unidos. Ali no Anexo B, o Parasite me remeteu direto a 1974, e confesso que viajei um bocado com o ótimo som que estava saindo das caixas de som, mas também com uma performance extremamente profissional e irreparável, que só atestou a propaganda de o Parasite ser uma das melhores bandas cover daqui do estado.
Bruce subiu ao palco, e foi a hora de irmos para os anos 80. Apesar dos mascarados continuarem por ali - outra surpresa, pois achei que Bruce viria acompanhado de uma banda solo, mas fez o show ao lado da Parasite, foi legal ver a alegria do guitarrista recordando o riff de "Heaven's on Fire". O peso de "Domino" estremeceu as paredes do pequeno recinto portoalegrense, e antes de "Tears are Falling", Bruce disse que aquela canção era para os apaixonados da noite.
Mais uma surpresa surgiu na inesperada "Hide Your Heart", faixa quase que esquecida do menosprezado Hot in the Shade, de onde saiu a próxima canção, a baladaça "Forever", também cantada em uníssono por barbados e gatinhas (nem tão novas assim) que amontoavam-se diante de um dos principais nomes do hard oitentista.
Com "Crazy Crazy Nights" a plateia ficou na mão de Bruce, que aproveitou para agradecer aos presentes e dizer que iria tocar duas faixas que ele gostava uma, a qual a primeira era uma festa e a segunda era um hino. Então vieram "Turn on the Night" - que coisa linda foi ver e ouvir essa faixa ao vivo, e "God Gave Rock 'N' Roll To You II", para mim a melhor faixa que Bruce gravou na época de Kiss, e que teve seu solo tocado perfeitamente, abrilhantando ainda mais a noite.
"Lick it Up" encerrou o período pós-máscaras, e como uma homenagem maior ao quarteto mascarado, veio duas faixas clássicas: "Detroit Rock City" e "Rock and Roll All Nite", onde o Parasite mostrou toda sua louvação ao Kiss, e Kulick fez valer a longa espera dos fãs que viram seu show pela primeira vez. A emoção dos meninos do Parasite era evidente, e Bruce compensou com muito carisma, simpatia e bom-humor, praticamente selando um contrato de mais vindas ao sul do Brasil em suas próximas passagens pelo país, fazendo um show que certamente marcou o coração dos apaixonados seguidores da banda.
Parasite KISS Cover:
Creatures of the Night
Deuce
Love Gun
Let Me Go, Rock 'N' Roll
War Machine
Psycho Circus
I Love It Loud
Black Diamond
Bruce Kulick + Parasite KISS Cover
Heaven's on Fire

Domino

Tears Are Falling

Hide Your Heart

Forever

Unholy

Crazy Crazy Nights

Turn on the Night

God Gave Rock 'n' Roll to You II

Lick It Up

Detroit Rock City

Rock and Roll All Nit

e